"SEEING THE ORDINARY AND MAKING IT LOOK BEAUTIFUL IN A PERSPECTIVE THAT NOT MANY PEOPLE NOTICE."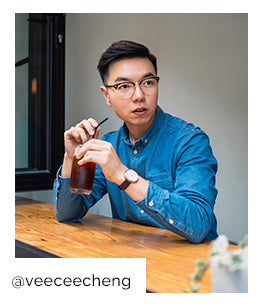 Can you introduce yourself to our community?
Hi, my name is Victor and I am a Hong Kong based Art Director from Toronto, Canada. I have an affinity for traveling and drawing creative inspiration from various cities and cultures. I shoot a wide range of subjects and topics, but focus my style on natural light, clean composition and unique perspectives. To all my areas of work, I apply a unique whimsical style. Some of my work has been featured in publications such as CNN, Condé Nast, The Telegraph, Huffington Post, GQ, Notable.ca and Passion Passport. Clients I have worked for in the past include: Cathay Pacific, Facebook, Air Canada, Moleskin, Airbnb, American Express, Canada Goose, Uber, Roots Canada, Nike, Heineken and The Art Institute of Chicago. For more of my work, you can check out my portfolio: veeceecheng.com.
Where does your pseudo veecee comes from ?
My Instagram handle is actually quite random. One day, as I was signing up for Instagram, I was so frustrated that all the "Victor Cheng" accounts have been taken. So I kept trying and trying until I literally spelt out my initials VEE CEE out and added my last name at the end. I always thought of changing it but I guess I never did.
What are you the most inspired from in photography?
When I travel, I am most inspired by the people I meet along my trip. Instagram is a great source of inspiration because I can easily find who the local photographers are in that particular location. When I meet these locals, I'm always inspired and influenced by their photography techniques, style, and aesthetic.
What are your passions or activities you just love?
I love taking photographs (if you already didn't know). I love just taking my camera and exploring parts of the world where I have not set a foot on yet. Seeing the ordinary and making it look beautiful in a perspective that not many people notice. Activities I love doing is also exploring new coffee shops every time I travel to a new city. Kind of like bar hopping, except you can call it coffee hopping.