Choosing the right Air France carry-on luggage and checked luggage
Every airline has its own rules in terms of the weight and dimensions of carry-on luggage and checked luggage. Do you find airline luggage restrictions to be a real headache? Then this article is made for you because at DELSEY, we want to make your trip easy and unforgettable - before, during and after the flight! OK, we're off to New York with our partner Air France - are you following us?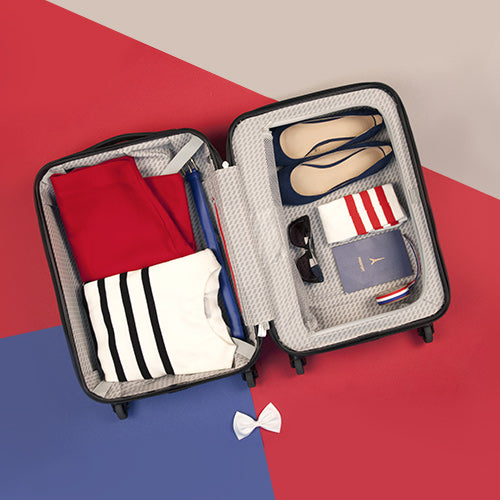 How to choose carry-on luggage for Air France?
You've got to find a suitcase before you can pack it, and that's when you need to take airline luggage restrictions into account.
For flights operated by Air France, your suitcase can be used as carry-on luggage if its dimensions are no more than 55 x 35 x 25cm, including wheels, pockets and handles, and if its weight is no more than 12 or 18kg, depending on your cabin class (indicated on your ticket).
See all Air France carry-on suitcases
Which suitcase for checked luggage?
To be accepted on an Air France flight, a suitcase for checked luggage must measure no more than 158cm (height + width + depth), including pockets, wheels and handles. The maximum weight allowed is 23kg for Economy and Premium Economy travellers and 32kg for Business and First Class travellers. Please refer to your travel reminder to check this information.
See Air France luggage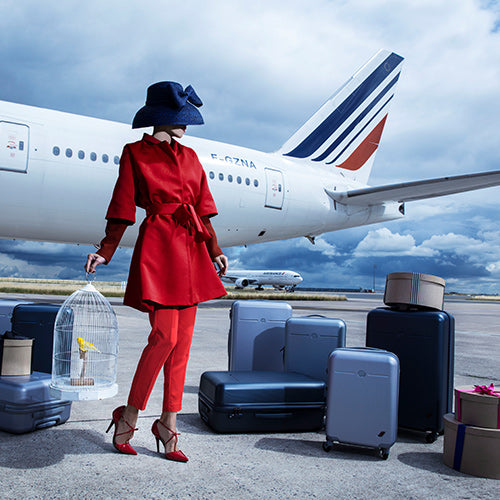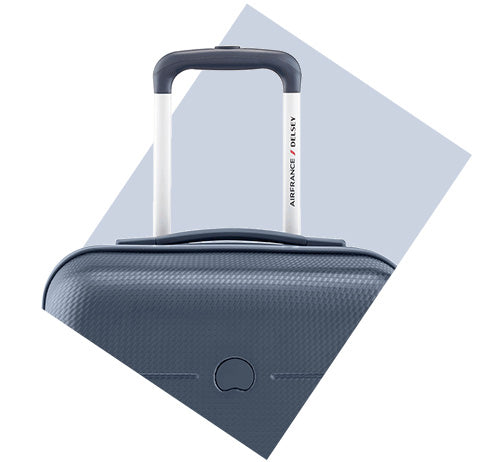 The Air France and DELSEY partnership
DELSEY and Air France, two travel experts, have joined together to offer you luggage which combines expertise and French elegance. ENVOL is the hard luggage collection from Air France and DELSEY, available in 3 sizes, in blue or light grey. DESTINATION is the soft luggage collection: Air France and DELSEY suitcases available in black and red, in several sizes, for any kind of travel. We love both collections, but if you're not sure whether to choose a soft or a hard suitcase,
read our advice here
.
See Air France DELSEY luggage
Additional hand luggage?
In addition to your carry-on luggage, Air France allows you to board the plane with an additional piece of hand luggage like a handbag or a bag for a computer, camera or other electronic device. The maximum dimensions of this bag are 40 x 30 x 15cm.
See additional hand luggage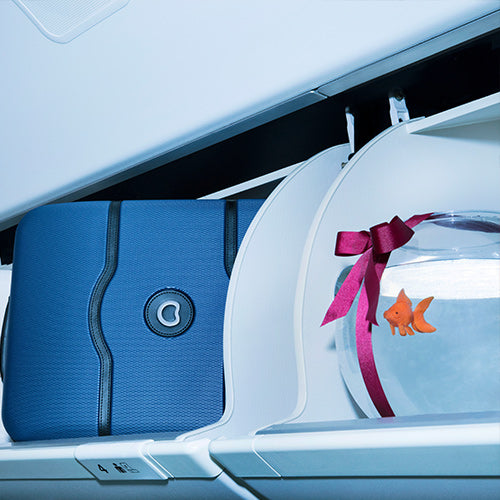 Choosing suitcases for another airline
Are you travelling with another airline? Try out our tool to see all the suitcases accepted by your airline!
Try the tool
DELSEY's tip
Don't forget that carrying liquids onboard is strictly limited! So remember to put your cosmetics in your checked luggage. Are you just travelling with carry-on luggage? Decant your cosmetics into miniature bottles of 100ml or less!
See the product